I am definitely a fan of Ports... especially when the port comes with chocolate. It seems almost fitting to talk about Port today, as "Johnny Depp" is on his way to Portugal - home to the best Ports in the world. (Side Note: Portugal is also home to the world's cork industry. I'm hoping to gather some fun pictures of cork trees to educate us all about how wine cork is made...)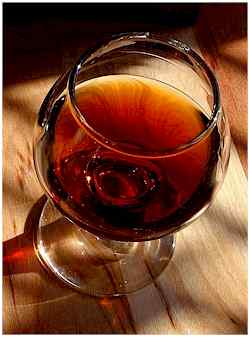 But anyway, back to the story on
Port
... Grapes are still hand harvested, like many wine regions throughout the world. Some
Port
producers still crush the grapes by foot (remember
"I Love Lucy"
), but grapes are also crushed using a mechanical crusher. Many producers use an
autovinifier
, which is a closed system that continuously agitates the
must
to ferment the grapes. Before the fermentation is complete, a grape spirit (like
brandy
) is added to the fermentation. This not only arrests the fermentation, but it increases the alcohol content to about 18%. This addition of the spirit is quite complex and relies on several factors including the starting sugar content of the must, how much sugar remains, and what the final sugar content of the
Port
will be (as the addition of alcohol will dilute the sugar content overall).
Following fermentation, the aging of the Port will vary depending on its style destination. Ports are either bottle aged or cask aged. Those that are aged in casks (wood) will be ready to drink after cask aging and bottling is completed. Those that are destined for bottle aging will have to wait for about 20 years until they can be drunk. From this classification, there are several Port styles. Three common Old-World (Portugal) styles are as follows:
Ruby Port: These Ports remain red in color and are bottled young. These are very simple and inexpensive Ports. Such Ports have a berry and fruity flavor that other styles would not have. However, some Ruby Ports are also pasteurized (or cooked) prior to bottling and can result in a "cooked" or "stewed" flavor.
Tawny Port: The word "tawny" used to imply that the Port was aged for a long enough time to lose its ruby red color, but in today's world, some Tawny Ports are not any older than commercial Ruby Ports. The tawny color is amber-hued and these Ports lack the fruitiness of a Ruby Port. Many have oxidized flavors which means the Port may be slightly nutty or Sherry-like. Some that are aged for years also have some spicy flavors, which make them perfect as aperitifs.
Vintage Port: This is one of the most expensive Port styles. The best grapes in a given year are used for the Vintage Ports. With this style, wines from a single year (or vintage) are blended, bottled, and aged for about 2 to 3 years in wood. The Port is then bottled and sold, intended for consumption in about 20 years. Most are bottled unfiltered and will leave a deposit as the Port ages in the bottle.
Many New-World producers (like those in the U.S. and Australia) attempt to make a Port-style wine. They are becoming more common throughout the U.S. and sold in the tasting rooms. These Ports are made from various varieties including Cabernet Sauvignon and Cabernet Franc. However style will vary from producer to producer.
Food Pairings with Port:
1) chocolate or chocolate-based desserts (i.e. cake, mousse, puddings, etc.)
2) nuts (or nut-based desserts)
3) vanilla ice cream
4) cheesecake
5) as an aperitif
Port Producers to Try (Thrifty and Fun):
1) Osborne (~$11 to $60 depending on style, age, etc.)
2) Offley (~$10 to $50 depending on style, age, etc.)
3) Taylor Fladgate (a good intro Port)