I've been really into the recent winery trend of throwing Masquerade Balls as festival events. On a recent search, I found wineries in Iowa, North Carolina, California, and Oregon throwing October-based Masquerade Balls. In North Carolina, the event even included a murder mystery (to go with the Halloween theme, of course).
This got me thinking... a lot of people I know are trying to find fun ways to incorporate wine into a social gathering. So, part of the purpose of this blog is teaching you (the reader) how to make wine a part of your fun, too. Hence - here's how to throw a wine-based, (thrifty), Masquerade Ball. After all... sometimes we all need a little fun. :)
First, some pictures of several styles of Masquerades (all pictures off Google Images):
Phantom of the Opera (the movie) Masquerade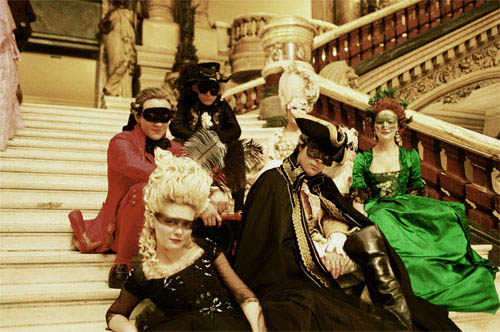 Marie Antoinette
Van Helsing
So... you get the point. Extravagant - dancing - elaborate costumes... But we can bring it all together and focus around the wine! In this current economic state, I've seen a lot of parties thrown when the guests contribute. It seems to be well received. I would decide if this is something you are up for, and then choose what it is that you would like guests to bring vs. what you would like to supply.
A perfect Masquerade Ball theme for October season involves the colors black, deep purple, and silver. I think this matches perfectly with the Halloween/Harry Potter-esque themes. Color is everything with a Masquerade. :)
First is first - the dress. I recommend making it a black-and-white dress type of occasion. This eliminates the need for guests to buy costumes during an inflated price season. Black and white colors set the tone, and keep the spirit of October alive. I would make it clear that the dress is semi-formal with several examples of what is appropriate. After all, Masquerades were meant to be fancy! Then comes the decision on whether guests should provide their own masks or if you would like to provide some at the door. Either way is acceptable and both can be fun. If you choose to have guests bring their own masks, I would provide some fake jewelry or accessories at the door to say "thank you" to your guests. Here are some links to Masquerade masks that I found on a brief Google search:
Decor - to me, the black, deep purple, silver theme is perfect. You can easily decorate with this. Simple things that you can find that add a touch of magic, mystic, and elegance include mirrors in old vintage frames (white and black colored frames), pillar candles (of all shapes and sizes), and gossamer fabric, which adds a touch of shimmer no matter where you put it. Drape it over furniture, the table, and even tie bows around the dinner chairs. It's a thrifty decoration piece. I've also heard that chilling your candles in the freezer will allow them to burn slower and longer. Candles are a great mood piece here, as it really dims the lighting; perfect for a Masquerade. A simple outdoor decoration is in season right now - pumpkins! I would recommend some white pumpkins (the smaller the better), and hollow out enough of it to light with small candles. As guests arrive, they'll be amazed at this small touch. Even better - add some glitter to the pumpkins to really make the walk way sparkle. This theme could be transfered inside as well, for extra decor.
For the table, line with dark purple or black paper table lining. Adjust a layer of gossamer fabric over top of the dark backdrop. Candles, shimmering pumpkins, and some food will make this the perfect set up inviting guests to enjoy some food and wine. You can also opt for some floating candles - they are very trendy these days and do add a touch of elegance. Placing these items on flat mirrors (which you can purchase at many craft stores such as Michaels, discounted shops like Ross, T.J. Mazz, or Marshals, and places like World Market) gives a glowing effect that is perfect for your Masquerade Ball.
Food and Wine - Now, the tricky part. It's up to you to decide whether you want a real sit down dinner or a bunch of tiny hor d'oeuvres for people to snack on.
I'm definitely a proponent of hor d'oeuvres - it's easier and allows guests to graze freely. I definitely think it's worth investing in some fruit and cheese platters. After all, you will be enjoying some wines throughout the evening. Dark purple grapes, plums, figs, and apples are perfect for the theme and season. Add some cheese and crackers (choose to your liking) on another platter. Additional food fillers includes specialty breads, assorted meats, olives (dark olives would look great here), roasted lightly-spiced pumpkin seeds (from all those hollowed out pumpkins!), and a dark leafed salad. I'd complete the meal by adding in some dark chocolate dessert. My favorite would be little dark chocolates adorned with silver foils. But nowadays, you can also opt for the dark chocolate Hershey Kisses, which come pre-wrapped in dark purple foil. Using paper plates, silverware, and napkins is perfectly acceptable and will be an easy clean up. See if you can find some in black.
The wine is a bit tricky. You can purchase plastic wine glasses and tag with people's names, or have everyone bring their own glass, but you must specify what kind of wine you will be serving. If guests bring their own wines, you can provide wine glass tags or charms at the door to make sure guests leave with the same wine glass. Wine glass charms could be a perfect party favor for your Masquerade Ball.
Paper Wine Glass Tags
Gemmed Wine Charms
Teardrop Wine Glass Charms
Or there are those fun plastic wine glasses:
Regardless, picking a wine is essential. When it comes down to it - this is a wine party. If it was my party, I'd serve bubbly. I think it fits in with the essence of a Masquerade. Of course, with bubbly, it is essential to have plenty of food and designated drivers (or rooms where people can spend the night). An extra thrifty note is that a little bit of bubbly goes a long way. So you can buy a fine assortment of sparkling wines and please a crowd. In addition, there are several sparkling wine mixed drinks out there that may capture the feel of the night. Sparkling wine can be placed in tin tubs (filled with ice), which continues to mingle with the theme. Some thrifty sparkling wines: try Korbel

(depending on the style and variety, ~$10-12 per bottle)

, Freixenet

("fresh-eh-nee")

Cordon Negro Brut and Extra Dry

($9 or $11 per bottle and this sleek black bottle goes very well with the Masquerade theme; remember, "Extra Dry" means the wine is sweeter than "Brut"),

Yellow Tail

($9 per bottle)

, Gloria Ferrer

(the Blanc de Blanc is often <$15 a bottle in Eastern states),

Domaine Ste. Michelle Brut

($10 per bottle),

Presto Prosecco Brut

(~$8 per bottle), and

Andre Spumante

($6). Of course, these selections are assuming national availability as well as being budget friendly and general crowd pleasers. If you are in the mood to splurge, take a look at my previous blog on

Mumm Napa Brut Rose as a magnum (Brut Rose by Mumm Napa) or Blanc de Chardonnay, Brut by Thibaut-Jannison (Blanc de Chardonnay).
To top it all off, offer sparkling water. Bubbles, bubbles everywhere...
The rest is up to you! Improvise with music, which you can play right off an mp3 player, games (hmmm... like "Clue" or card games), or old thriller films. The activities should focus on you and your group of friends - what you enjoy doing. Most of all... enjoy!