Today is the
3rd Thursday of November
, which means it's
Beaujolais Nouveau Day
! (Pronounced: Boh-joh-lay New-voh)
(Photo from Google Images)
Location of Beaujolais in France
(Map from Google Images)
Each harvest season, the appellation of Beaujolais (a sub-region of France's esteemed Burgundy region) produces quick-to-drink Gamay wines produced by a process called
carbonic maceration
. The Gamay variety is a red grape, traditionally grown in Beaujolais. A portion of the Gamay harvest is set aside for carbonic maceration: a fermentation process in which whole grapes are fermented under a high carbon dioxide environment. The fermentation process, unlike traditional wine fermentation, takes place inside the berry (where the sugar and juice is located), and as fermentation progresses, gravity will force grapes at the bottom of the fermentation vessel to pop open, which allows for further, traditional fermentation. This process creates a very fruity, floral, low tannin (light bodied), lightly colored red wine -
Beaujolais Nouveau
. The whole process from harvest to bottle may take about 6 weeks -
unlike
traditional Beaujolais wine
, which may take several years to put on the market [from harvest to bottle].
Gamay Grapes
(Photo from Google Images)
A Pictograph of the Carbonic Maceration Process
(Photo from Google Images)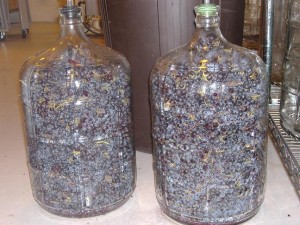 Small scale Carbonic Maceration
(Photo from Google Images)
A close up of Carbonic Maceration
(Photo by Google Images)
In the U.S., Beaujolais Nouveau is released for sale on the 3rd Thursday of November - right before the Thanksgiving holiday. It's a beautiful starting wine to kick off the holiday meal. The most recognized Beajolais Nouveau label is by Georges Duboeuf, the producer that popularized this wine style. Here's a look at his 2011 label that you may find available in a wine store near you!
(Photo by Google Images)
The best part? Most of these wines are all going to be priced between $10 to $20. That's definitely not breaking the bank this holiday season! Be weary of buying these wines after the month of December. Due to the way they are processed, they are fragile and meant to be drunk early (as in, within a few months of hitting the market). But when they start to go south, you'll see a lot of wine stores try to sell them for under $10.
But don't stop there! Many local wineries may have "Nouveau Day" features! And the wines for sale are probably perfect for a holiday festivity! Check your many wine blogs to find some local features... or visit these widgits on the left side of my blog for suggestions!