If you read
Natalie MacLean's website
, or enjoyed her book "
Red, White, and Drunk All Over
," you'll see that she is an excellent guide at pairing all those foods that "we aren't supposed to pair with wine." She emphasizes that the joy of wine should be included in every meal, regardless of its price, type, or source. This article is right on with that topic, and I thought it would be fun to share for this week's news article. Enjoy!
This article was originally published by
CNN
. It is pasted here for your convenience. (All photos are from Google Images or the article.)
The right wines for Slim Jims, doughnuts, and Spaghetti-Os
Ray Isle (@islewine on Twitter) is Food & Wine's executive wine editor. We trust his every cork pop and decant - and the man can sniff out a bargain to boot. Take it away, Ray. And for curious folks – these are doughnuts we gobbled down one morning from Sublime Doughnuts in Atlanta, Georgia.
Yes, we all ought to be eating our locally-sourced, free-range, antibiotic-free, Mangalitsa porkchops or whatever, but sometimes, you know, you just want a Frito. Particularly if you're doing something like watching a ball game on TV, or taking a break from hurling a Frisbee around a park.
However, just because your cravings currently extend to chips, chicharrones, or Chung King noodles from a can doesn't mean you can't enjoy a tasty glass of wine alongside. Here are a few off-the-wall (or off-the-convenience-store-rack) pairing suggestions.

Potato Chips
Or French fries, or Tater Tots—basically any kind of fried potato object with lots of salt. Go crazy: drink Champagne. The stuff was made for salty fried foods, whether the Champenoise want to admit it or not. (If real Champagne is too pricey, head to Spain for Cava.)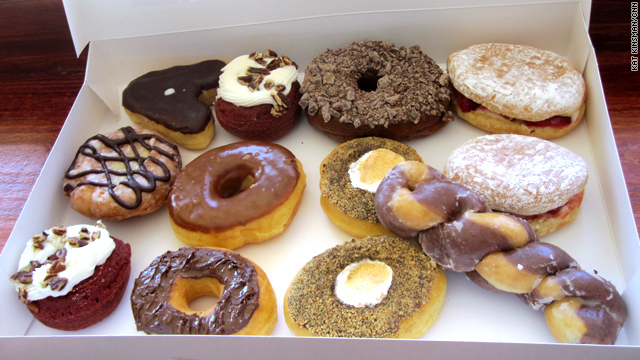 Doughnuts
Look, I don't drink wine with doughnuts, but that doesn't mean there's not some madman out there cruising the streets at midnight, wondering what the heck will go with his bagful of Krispy Kremes. If you're that person, the answer is sparkling wine that's sweet. (Note: The same holds true for wedding cake, too.) Sugary pastries and cakes make dry sparkling wine taste like lemon juice. Go for a demi-sec Champagne, or the American equivalent thereof.
Slim Jims
Don't even ask what these things are made from, but if you're eating them and craving a glass of wine—or really if you're eating any kind of dry sausage or charcuterie—go red. In fact, go red and Mediterranean. Spicy Sicilian Nero d'Avolas, ripe red blends from France's Languedoc-Roussillon, and Monstrells from Spain's southeastern coast are all great possibilities.
Spaghetti-Os
Seems like red wine would be the answer, but when's the last time you had Spaghetti-Os? Those things are sweet. So a crisp white wine is actually going to be the better pairing, for instance a Vermentino or Soave from Italy (because, um, Spaghetti-Os are Italian. Er, right?) It's the same rule-of-pairing-thumb that applies to Asian dishes that have a bit of sweetness, akin to squeezing lime juice on Pad Thai; match them with a white that has good acidity.
Deep-Fried Mars Bar
It's a Scottish thing. Not really ideal for wine. I'd say if you're self-destructive enough to eat deep-fried candy bars, go ahead and break out the Johnnie Walker with them. What have you got to lose, really?