What is a vertical tasting?
A vertical wine tasting is tasting 1 wine variety from 1 producer in a series of consecutive years. In this case, the vertical tasting is over a span of 3 years: 1998, 1999, and 2000. Vertical tastings are a way to taste a series of vintage years from a single producer, allowing one to explore the varying nuances of each, unique year.
(Photo from Google Images)
Where is the Lussac Saint Emilion?
Considered one of the Saint-Emilion satellites, Lussac Saint-Emilion is an
Appellation d'origine controlee (AOC)
within the Bordeaux (France) region. The satellites of Saint-Emilion were determined in 1936 for those producers in neighboring areas that fell slightly outside of the Saint-Emilion AOC. Lussac Saint-Emilion is about 5 miles northeast of Saint-Emilion with varying soil types including clay-limestone, clay, or gravel. Wines from this Bordeaux region should have intense red fruit characters and soft tannins. As this is a satellite region, the wines are usually of extraordinary value.
(Photo from Google Images)
Who is Chateau de Bellevue?
Kermit Lynch
, the importer whom I purchased these wines from, describes Chateau de Bellevue, a producer in the Lussac Saint-Emilion AOC, and it's proprietor, Andre Chatenoud, perfectly. Grapes are grown organically, while the wine is produced "non-organically." Lynch's website also easily defines this producer according to the French system.
These three wines are predominantly Cabernet Franc and Merlot blends. I think you'll be amazed at the prices (each bottle less than $30)! Even us ordinary folk can get our hands on classic, old Bordeaux's! :) For more information on this producer, please visit their
website
.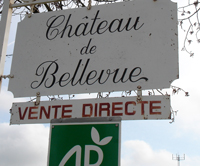 Results of the Lussac Saint-Emilion Vertical Tasting:
1998 Chateau de Bellevue ($26)
Probably the least of interest of the 3 wines we tasted (for me anyway). A brick red colored wine, with medium density. This wine needed some time to breathe in the decanter as there was a strong
Brett
character (barnyard, smoky) upon opening. Underneath the Brett existed some nice honey, floral, raisin characteristics with an earthy back note: herbs, tobacco, oak, and a hint of spice.
On the palate, the wine appeared medium-bodied and quite bountiful with tannins. Herbal, earthy, and Bretty flavors, this wine definitely would go well with game or a nice steak. The higher alcohol (13%) breaks in the finish, allowing for lingering flavors of earth, smoke, and oak.
1998 and 1999 Chateau de Bellevue
(Photo by author)
1999 Chateau de Bellevue ($24)
Compared to the 1998, this wine showed it's elegance. If the 1998 was the older brother, this was the younger, demure sister. Powerful blackberries, leather, and dried plums in the nose with subtle hints of chocolate, tobacco, and earth. A refreshing reminder of the herbal characteristics that define Cabernet Franc (tobacco, earthy, dried herbs, slight smoke) with noticeable, aged fruit.
More fruit in the palate, and smoother than the 1998. The
Brett
is still noticeable as it thins out the finish, but this is the perfect introductory wine for those looking to try an old-world style Bordeaux at an affordable price. The tannin is a bit "dusty" or drying in the finish, but the lingering flavors make up for this. I'd like this wine some light, aged cheeses.
2000 Chateau de Bellevue ($28)
A beautiful brick, red color without perfect clarity. Some small tartrates still remained. This wine immediately opened with ripe, red cherry aromas, as if you were holding a basket of fresh berries in your hand. As the wine breathes, graceful notes of leather, spicy cinnamon, and slight smoke laced with bacon fat surprisingly hit your nose.
Initially, this wine appeared thin and astringent up front, but it needed some time to breathe. The mid-palate was weak and bit bland, probably due to the higher (13%) alcohol content. There is still a slight green character to the wine, but not dominating. I think this wine could've been kept longer and continue to impress. With a slight hit of
Brett
, the wine paired well with our fatty clam chowder. The cream from the soup really smoothed this wine out for a beautiful dinner by a setting sun.
2000 Chateau de Bellevue
(Photos by author)