I check a daily posting of wine news every Monday through Friday, and I found this one to be quite interesting.
JT Wines
released its wine in 100% recyclable aluminum can last week. Named FLASQ (which I am assuming is said like "flask"), the product is sold in 2 varieties: California Chardonnay and Merlot. Each bottle contains 375 mL of wine (which is reported as 2 generous glasses of wine), sold for about $6 to $8 (economically thrifty), and targeted towards Millenials, Generation Xers, and Baby Boomers. JT Wines released that the aluminum package chills 5 times quicker than a glass bottle, stays colder longer than a glass bottle, is resistant to breaking, prevents "light-shock" (which can cause sulfur/rotten-egg aromas/flavors in wines and beer), preserves flavor straight from the barrel, and allows for "additional aeration while drinking" (which is supposed to keep the wine fresher as you drink it). They are said to hit grocery stores and distribution chains quickly.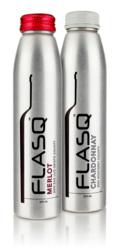 The attached article also lists some tasting notes for the first releases, which I have provided here for your reading convenience. (For full article, please click
here
).
2009 FLASQ Chardonnay
- 100% Chardonnay (Monterey County)
- Rich pear and pineapple with a hint of butterscotch
- Medium-bodied wine with balanced fusion of lush fruit and refined acidity
2009 FLASQ Merlot
- 85% 2009 Merlot (San Luis Obispo County, Paso Robles) & 15% 2008 Merlot (Monterey County, San Antonio Valley)
- Ripe red and blackberries with a note of spice
- Medium-bodied wine boasting the union of verdant fruit and smooth tannins
I think both variety choices are wise: easy drinking, smooth, light, appeal to both men and women. The price, when you think about it, is interesting (considering some wines you can buy 750 mL - twice as much - for $10 or less), the descriptions of the wines are quite marketing-oriented, the packaging is catchy for "on-the-go" consumers, and the idea: innovative (not traditional).
Tell me what you think if you find one of these wines and try it! Please post in the "Comments" section for today's blog. Cheers.